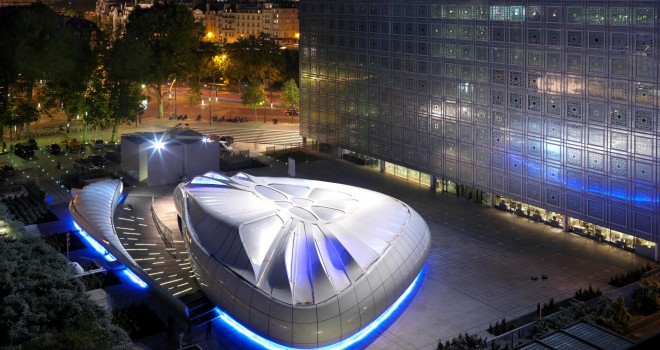 Islam & Science International Summer School 2014 in Paris
The American University of Sharjah (UAE) and the Université Interdisciplinaire de Paris (France) are pleased to announce The 2014 Islam & Science Summer School to be held from August 22 to 31, 2014, in Paris, France.
This event will gather 20 participants of one of the workshops we have conducted on "Islam and Science: an educational approach", to undergo "final training" and become able to lecture, publish, and participate in the ongoing debates on Science and Islam/Religion.
It will consist of about 8 days of in-depth lectures by world-class experts, visits to scientific and cultural institutions in Paris, discussions, and a small project to be prepared by teams of two (some afternoons will be reserved for that work).
The lectures and Q & A's will be conducted in English, no translation will be provided, but side discussions and projects can be conducted in Arabic or French.
The general themes of the Summer School span the following topics:
Islam and the History & Philosophy of Science;
Science and Qur'anic/Islamic Worldview;
Islam & Modern Cosmology;
Islam & Modern Biology (Evolution);
Islam, the Environment, and Ethics;
Islam & Practical Astronomy.
Lecturers
Ehab Abouheif
Denis Alexander
Philip Clayton
Nidhal Guessoum
Bruno Abdelhaq Guiderdoni
Usama Hasan
Odeh Rashed Al-Jayyousi
Jamal Mimouni
Jean Staune
Past Workshops
One of the main activities of this 'Islam & Science' project is the organization of a series of educational/training workshops of three days in various countries: Algeria, Jordan, Malaysia, Morocco, the United Arab Emirates, and Tunisia, as well as France and the United Kingdom. Twenty to twenty-five participants (students and young researchers) take part in each event.
Workshops aim at familiarizing the participants with the fields of 'Science & Islam' and 'Science & Religion', with their themes, their main voices, their scholarly productions (essential books, journals, websites, etc.) and, more importantly, at enabling the participants to follow the debates and, hopefully to contribute to them in the near future (after the summer school).
Each one of the workshops is organized in partnership with important institutions and personalities of the Muslim world, which helps guaranty that the workshop(s) – and the project overall – will have a significant impact both locally and globally.
For further information about these workshops and the umbrella project, please visit: http://islam-science.net/.
More info
Photo Credit
Futuristic architecture by Zaha Hadid
Mobile Art Chanel, Facing the Institut du Monde Arabe, Paris
© Design Party