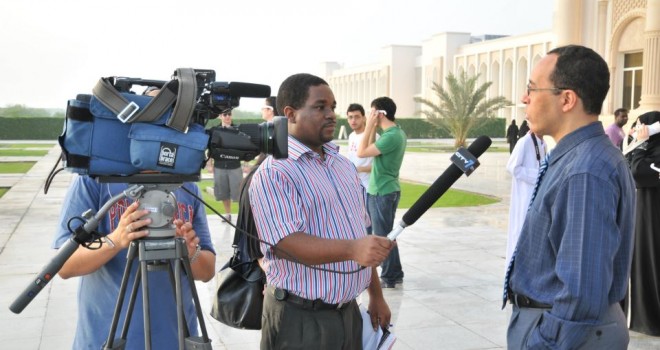 Meeting The Challenge Of Science For Muslims On Campus 1/2
In the U.S., debates about science and religion in the classroom tend to focus on American public high schools, where local school boards argue about Darwin and the Bible.
But as the recent controversy at University College in London showed earlier this academic year, there are considerable tensions and debates among Muslims about the degree to which science challenges fundamental tenets of Islam.
Project Nur, a student-inspired initiative of the American Islamic Congress, is a program intended to engage Muslim students and others on college campuses on these and other topics.
The project is managed by Shakir Mohammed from the AIC's office in Washington, D.C.  Mohammed grew up in Ethiopia and came to the U.S. on a scholarship to study business management. He stayed on after earning a Master's in International Development and Environmental Sustainability, and worked for the City of Pittsburgh's Business Department for three years before joining the AIC.
To address the growing concern about Islam and creationism (among other issues), Shakir launched the first of six seminars on Islam and Science at the University of Iowa last month. The seminar series is also funded by the John Templeton Foundation, which takes a proactive approach (some would say too proactive) in the debates about religion and science.
As a former Templeton-Cambridge Journalism fellow, with particular interest in science and religion, I was invited to be on the first panel. (I'll be posting a video with highlights from the panel in a follow up post.) I'm also interested in the history of Islamic science, particularly its huge influence on European philosophy and science in the Middle Ages.
The Keynote speaker for this first event is an astronomer and author I've written about before, and one well placed to discuss the intersection of hard science and Islam: Nidhal Guessoum, a professor of astrophysics at American University of Sharjah, and author of Islam's Quantum Question (which I reviewed here).
Guessoum's presentation was a call for Muslims to avoid trying to read modern science back into the Qur'an. I'jaz, which is a current of thought quite popular now in Turkey and other Islamic countries, tries to interpret specific passages of the Qur'an as predictions of specific scientific theories. Devotees claim, for example, that the Qur'an predicted Darwinian evolution, Einstein's theory of relativity and the Big Bang.
Guessoum sees this as highly counterproductive to science education in the Middle East.
After the panel, I asked him about his hopes and expectations for engaging the debate at this level, in presentations and panels on campuses in the U.S.
"For me, the Cosmology and Islam panel was meant to achieve two important goals," he said. "The first: to show people, especially Muslims, in what way relating Cosmology with Islam can be attempted (i.e. certainly not at the literal Quranic-verses level), more specifically at the conceptual level.
To be continued