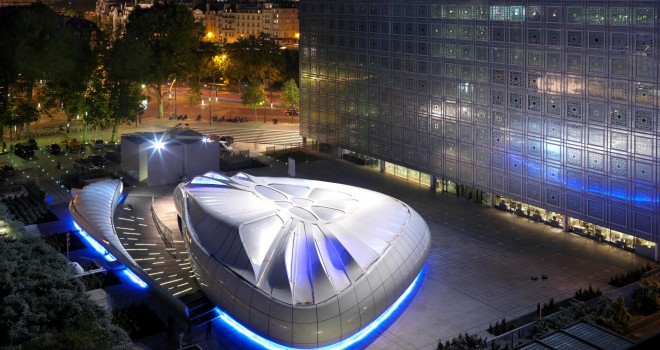 From Sindbad to Sci-Fi: Reimagining Arab Science Fiction
Yasmin Khan embarks on a new venture, inspired by our London based workshop discussions she spoke at earlier this year.
She says: "One of the things that emerged from our talks was the need to establish a safe platform to explore contemporary issues in science from a Muslim perspective. After reflecting on our group discussions, It occurred to me that science fiction (sf) is a naturally coexisting realm where new ideas can be explored, imagined, digested, rejected or embraced. Yet this genre is noticeably absent in the Islamic world today. The Islamic world does not generate new sf material but consumes what is already produced and exported by Western world. Sci-Fi has come to be regarded as a Western phenomena whilst hundreds of years ago epic writers such as Ibn al-Nafis explored new ideas by posing 'big questions' such as What's out there? Are we alone? Who are we? His theological (Al-Risalah al-Kamiliyyah fil Siera al-Nabawiyyah) can be regarded as proto-science fiction. Similarly, al-Qazwini's futuristic tale of Awaj bin Anfaq and al-Farabi's story about a Utopian society was ahead of its time."
So with this in mind, Yasmin is currently producing a salon event on the theme of Arab science fiction as part of the Nour Festival of Arts, London's biggest celebration of contemporary Arab culture:
One of the questions the salon will aim to tackle is the inter-relationship between science and science fiction. How does a vacuum of original Sci-Fi material impact the Muslim/Arab world today? Is scientific and technological progress dependent on a a revival of the imagination? If science fiction can help to bridge the arts/science divide, is a revival of Arab Sci-Fi urgent?
The salon will be a rare opportunity to bring to the fore fresh thinking on the topic. The event will have broad appeal and will interest people that are new to the subject as well as engage individuals who have a deeper passion for the science fiction genre.
I am particularly hoping to seek out emerging talent and inspire aspiring writers and artists from among the Diaspora.

~ Yasmin.
The event is labelled as a 'Sci-Fi Salon' to suggest a more participatory and intimate style of event – a modern format that harks back to traditional Arab roots: Women's literary salons and societies in the Arab world.
'From Sindbad to Sci-Fi: Reimagining Arab Science Fiction'
VENUE: Science Museum's Dana Centre
DATE: 2 October, 7-9pm
The event is FREE and tickets can be booked online:
http://www.danacentre.org.uk/events/2013/10/02/707
For event updates visit:
Help spread the word
Twitter: @SindbadSciFi #SindbadSciFi
Facebook: https://www.facebook.com/sindbad.scifi
'Like' as well as 'share' the Facebook community page:
https://www.facebook.com/pages/Sindbad-Sci-Fi/1386216074941672
Click to confirm attendance on the Facebook Event page:
https://www.facebook.com/events/374659372636594/
And cast your vote on this important Poll asking:
"Is a global revival of Arab Sci-Fi more vital than ever?"
https://apps.facebook.com/my-polls/btshn
The results of the online poll vote will be compared to the result of the audience vote at the finale of the Sci-Fi salon.
It should be an eye-opening discussion.
By Gillali Abdelaziz, Islam&Science.
Photo Credit
Futuristic architecture by Zaha Hadid
© Design Party