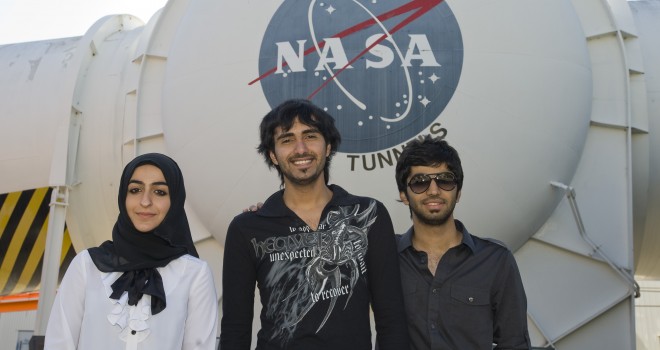 Arab Space Programs Slowly Coming of Age
Fruits of the Past & Present
On July 16, 2014, the United Arab Emirates' leadership announced the creation of a UAE space agency and an unmanned mission to Mars by 2021, to coincide with the 50th anniversary of the country. It was the first move by an Arab state, to send a spacecraft to a planet, the moon, or any celestial object. For the past several decades, Arab space programs had been limited to satellites, most often just operated from the ground, but sometimes participating in launching and placing them in orbit.
The existence and extent of Arab space programs, can simply be determined from the national space agencies, which only six Arab countries now have: Algeria (agency founded in January 2002); Egypt (the National Authority for Remote Sensing and Space Sciences, founded in 1994); Morocco (the Royal Center for Space Remote Sensing, founded in Dec. 1989); Saudi Arabia (the Space Research Institute); Tunisia (the National Center for Remote Sensing, founded in 1988); and the UAE (the above-mentioned, just-recently founded agency). The Algerian, the Egyptian, the Saudi, and the Emirati agencies operate satellites. No other space technologies, e.g. rocket launch capability or astronaut training and stays in space (aboard shuttles or space stations), are mastered or pursued by any of the above agencies. (One may recall, rather anecdotally, that two Arab astronauts have made the trip to space, both in the mid-1980's, aboard the US space shuttle and the Soviet spacecraft Soyuz, respectively.)
The Arab-Muslim attitude towards science and technology, is dominated by a utilitarian view and principle. This is true of governmental officials as well as of the general public. Thus, space programs have focused on satellites, remote sensing, and telecommunications. Space exploration is seen as a luxury, if not a useless endeavor, that certainly does not deserve and cannot justify billions of dollars in spending.
Indeed, the Arab world first focused on telecommunications satellites in the 1970's, with Arabsat (Arab Satellite Communications Organization) and (later) Nilesat paying for satellites to be placed in orbit and renting slots for TV and Radio channels. Arabsat was established in 1976 by the member states of the Arab League, with a goal of serving the telecommunication, information, culture and education sectors; its first satellite was placed in orbit by Ariane in 1985. It has since had a good half dozen satellites operating on and off.
Arab states have also individually pursued satellite technology, for "strategic" reasons. Iraq was the first Arab state to launch a satellite (in December 1989), becoming the tenth nation in the world to put one in orbit. Other Arab countries later had some satellites placed in orbit for them; they largely focused on remote sensing, e.g. Morocco (Maroc-Tubsat, launched in Dec. 2001) and Algeria (with its Alsat-1, developed in Surry, UK, and launched in Nov. 2002), or GSM-telephony, e.g. the UAE's Thuraya (built by Boeing for 1 billion dollars, the first being launched in Oct. 2000, the second in Jan. 2003).
In the past decade or so, more such individual state efforts have appeared, particularly from the rich Gulf states. The UAE now has four satellites up in space, Dubaisat-1 and 2, and Yahsat 1A and 1B, all built (mostly) elsewhere and launched by other countries' rockets. The UAE government, however, announced that Dubaisat-3 will be built at home and mostly using national technical expertise. Indeed, Arab homegrown efforts in the area of satellite design, construction, launching, and orbit placement have until now been extremely weak, especially if one compares with the Indian program, for example…
That is why the recent pronouncement by the UAE government of a mission to Mars, came as such a pleasant surprise, breaking the traditional focus on satellite technology and aiming, through space exploration, at developing national expertise and capabilities, as stated by the UAE President in the official communiqué, that announced the stunning initiative.
In similar and related veins, Qatar and the UAE had recently announced plans to establish: a $3.3 billion Space City (in Qatar), an $800 million space center (in Abu Dhabi), and a spaceport project (also in Abu Dhabi) with Virgin Galactic (which has a facility in Dubai).
One major deficiency that can be noted in these space programs, is the near-total inexistence of coordination or even collaboration, whether at the regional level (e.g. Gulf) or pan-Arab level. Calls have been made for the creation of a Pan-Arab Space Agency (PASA), to operate and coordinate programs at the Arab League level, similar to the European Space Agency (ESA) of the European Union. Such a regional agency would ensure a coordination of efforts, thus reducing costs of launching and operating satellites and allow many countries to benefit from the images and data collected by the various satellites, instead of needlessly duplicating efforts and multiplying spending.
Likewise, one must note the total absence of any pooling of human expertise and resources: to my knowledge, Arab space scientists from across the Arab world or from around the world have never been assembled in a high-level meeting with officials of individual Arab states or of the Arab League.
The Future
Space programs (technology and exploration) have much to offer to the Arab world at this juncture of its scientific, technical, economic, educational and cultural development. Space programs now play essential roles in urban planning (through imaging and remote sensing), land (desert and forest) observations and uses, military surveillance, etc. More intangibly, space programs give a nation geo-political prestige, and perhaps most importantly inspiration and education avenues for its youth.
The Arab world needs to set a clear, multi-faceted, and future-looking space strategy.
By Nidhal Guessoum, published in Muslim-Science.com, October 1st 2014. 
Nidhal Guessoum is a professor of physics and astronomy at the American University of Sharjah. You can follow him on Twitter at: www.twitter.com/@NidhalGuessoum.