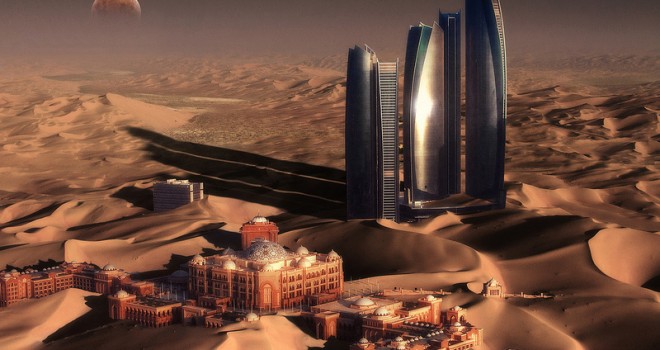 Arab science fiction shines light on current Middle East themes
"Who would have imagined president Mohammed Morsi citing Planet of the Apes as influencing his vision of nation-building?" asked BBC journalist Samira Ahmed, a panellist at a groundbreaking event in London last month, exploring the phenomenon of Arab science fiction.
As an independent curator, producer and freelance writer with a science background, I appreciate the connections between art, the imagination and technology. Curating the salon event From Sindbad to Sci-fi, part of the annual Nour Festival, was a chance to explore the relationship between science-fiction narratives in the East and the West, examining how both forms have evolved.
A defining moment for me was working on the British Library's landmark 2011 exhibition Out Of This World: Science Fiction But Not As You Know It, looking at the global evolution and breadth of science fiction. It is only now that I am finally able to tackle a lingering hunch that there is more to sci-fi than initially meets the eye.
A look into Arab sci-fi opens up historical and topical narratives quite different from the usual stale stereotypes of the Middle East portrayed in much of the media.
As cultural critic Ziauddin Sardar put it at the event: "The problems of contemporary Islamic society – the problem of gender, the problems with authoritarianism – all of these are explored very thoroughly in Arab sci-fi. But most importantly of all, it is Arabs reflecting on themselves."
For a start, a plethora of major western science-fiction works have been influenced by the Middle East. Did you know Al Jeddi is an Arabic term meaning "master of the mystic-warrior way"? Star Wars director George Lucas used spiritual elements of Islam, along with other world religions, to convey the universal understandings of good and evil.
Frank Herbert's Dune contains a surfeit of Arabic terms of reference, such as the language of the Fremen people, derived or taken directly from Arabic. Erg, the Arabic word for dune, is used frequently throughout the novel, which is a profound metaphor for the struggle over control of the oil industry in the contemporary world.
Ray Bradbury's dystopian novel Fahrenheit 451 resonates with the predicament of Islamist repression versus repression of Islamism. Bradbury had a strong bond to the Middle East, especially to Baghdad, the city his imagination inhabited. He saw himself in the same tradition as the fantasy storytellers of One Thousand and One Nights and, in The Illustrated Man, he reinvented Scheherazade's frame narrative by weaving unrelated short stories together.
Science fiction as we now know it has come to be regarded as a western phenomenon, with precursor works from other parts of the world less well known. The sci-fi salon at the Nour Festival reminded us of the epic Middle Eastern writers who are integral to this art form.
Ibn Al Nafis explored new ideas about the world in his 13th-century treatise Theologus Autodidactus, a work of proto-science fiction, one of the first Arabic novels and an early example of a science-fiction novel. Al Farabi's 9th-century Opinions of the Residents of a Splendid City was ahead of its time in envisioning a Utopian society.
And Al Qazwini's 13th-century futuristic tale of Awaj bin Anfaq, about a man travelling to Earth from a distant planet, is an early speculative work.
Until now, the Middle East has largely consumed, or has been the object of intrigue in, western sci-fi. But the salon panellists – including author and poet Amal El Mohtar and artist Khyle Alexander Raja – revealed new buds of internally produced forms of sci-fi beginning to emerge across the Arab world and in the Arab diaspora.
The most heartening discovery for me is Noura Al Noman's Ajwan, the only sci-fi book aimed at teenagers and written in Arabic by a woman – proof, if ever it were needed, that there is a renaissance of this tradition in the Middle East. In cinema, The Sons of Two Suns and EKON are possibly the first sci-fi films to emerge from the UAE.
There are many other examples: G Willow Wilson's novel Alif the Unseen follows the virtual and mystical adventures of a young Arab hacker, a mad dash through faith, myth, cyberspace, love and revolution, while Saladin Ahmed's Throne of the Crescent Moon uses legends from the Middle East as source material and was nominated for a 2012 Nebula Award and a 2013 Hugo Award. Both of these competitions recognise the best of science fiction or fantasy works.
The best known Arab work in this field is probably Dr Naif Al Mutawa's THE 99, about the first group of comic superheroes born of an Islamic archetype, based on the 99 attributes of Allah to reflect Islamic concepts appealing to universal values.
THE 99 was even commended by the US president, Barack Obama, in a 2010 speech at the Presidential Summit on Entrepreneurship, for capturing the imaginations of young people through the message of tolerance.
From Sindbad to Sci-Fi: Re-imagining Arab Science Fiction was the first event of its kind to successfully bring together people from a multitude of perspectives to explore the ties between science-fiction narratives in the East and West.
During the event, which was attended by a diverse audience of writers, literary critics, social scientists and sci-fi fans, one panellist, Ziauddin Sardar, argued that accelerating scientific and technological progress across the Middle East is interdependent with a revival of the imagination.
Science fiction has long been a bridge between the arts and sciences, one which is continually evolving to reflect the effect of science, technology and socio-political change on ourselves and our globalised societies.
Science fiction can help us envision the future beyond the uprisings of the Arab Spring. And, as Samira Ahmed observed, it continues to be a vital prism through which to view contemporary fears and fascinations about repressive regimes and alien cultures.
"Some parts of the UAE, such as man-made islands, are even beginning to look like something out of science fiction," said El Mohtar, a Lebanese-Canadian author and poet. Science fiction enables new ideas to be explored, imagined, digested, rejected or embraced.
Asked to vote on whether there should be a revival of Arab science fiction, the audience at the salon voted overwhelmingly in favour, demonstrating that there is an appetite for much more.
Arab sci-fi appeals on many levels; most simply it diversifies the sci-fi genre and offers a new and interesting read. On a much deeper level, Arab sci-fi could be viewed as a diagnostic litmus test of the state of nations.
The Sindbad Sci-Fi salon will continue its mission to develop into a fully fledged movement to spur the re-imagination of Arab science fiction. A growing community of interest will help to broker face-to-face dialogue, informed online discussion, new social networks, content mapping and further research into the genre.
The Nour Festival is an annual celebration of contemporary culture from the Middle East and North Africa, taking place in London. This year's festival continues until the end of November
On Twitter: @sindbadscifi
By Yasmin Khan, published in The National, November 10th 2013.