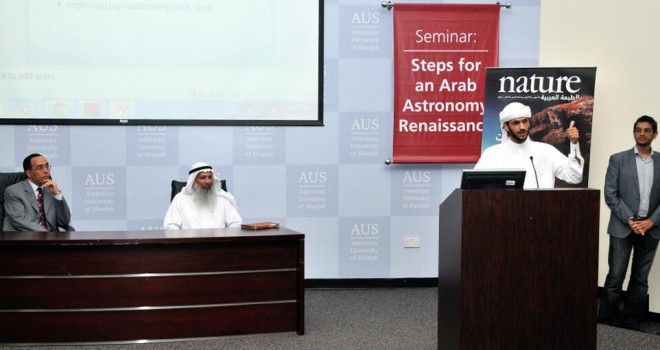 American University of Sharjah explores 'Science Renaissance'
American University of Sharjah (AUS) held a high-impact seminar entitled Steps for an Arab Astronomy Renaissance at its campus on May 14. The event, which was held in partnership with Nature Publishing Group (NPG) and the Dubai Astronomy Group (DAG), drew a large audience comprising students, faculty members, university officials as well as members of the public.
The seminar, which was hosted by Mohammed Yahia, editor of Nature Middle East and a prominent science journalist who also represented Nature Arabic Edition, a scientific publication in Arabic by Nature Publishing Group, was a followup on the article on the state of Arab astronomy published earlier in Nature by Dr Nidhal Guessoum, Professor of Physics and Associate Dean, College of Arts and Science. The event featured a number of exciting presentations, including an engaging review of the state of Arab astronomy by Dr Guessoum.
Commenting on the importance of seminars such as these throughout the region, Yahia said, "Over the past few years we have seen the start of a science renaissance in the Arab world, with many young people yearning to read about science and produce high-quality research. This may be the perfect time for them to reach out to their strong historic roots in astronomy, a science that blossomed under medieval Arab scientists." Yahia observed, "There is a clear need among young Arabs to learn about astronomy. It is time that Arab states capitalise on that enthusiasm and work to appear on the international astronomy research map. With a little investment and visionary leadership,  Arab states may once again become world players in astronomy."
"Arab astronomical observatories are currently too few and too small to appear on any world map of observational astronomy," explained Dr Guessoum in his talk. "This is astounding, considering the place that astronomy occupies in the Arab-Islamic culture and the human and financial capacities of the region," he added.
"Building even mid-size observatories will help launch a renaissance in astronomy and science in the Arab world," Dr Guessoum concluded.
Following Dr Guessoum's presentation, Hasan Ahmad Al Hariri, CEO of Dubai Astronomy Group, which has been awarded the development of the UAE National Observatory Project, delivered a lecture on the state of the project. "Though our present may appear gloomy, it does not mean our future will be the same," he said. "The UAE government has recognised the importance of such projects and has taken serious steps to revitalise this area of knowledge in the Arab and Muslim World," Al Hariri assured.
"The Al Marsad project is a milestone and is the first of many more to come." The event also featured two short presentations by students of D. Guessoum. The first presentation, by students Noora AlSaeed and Nada Adbdelhafez, focused on the search for the best sites in the Arab world for astronomical observatories. The second, by AUS student Abdelaziz Alzarouni, took a look at the Al-Kawn YouTube astronomy show in Arabic, which he has been conducting with Dr Guessoum.
The event demonstrated the various steps undertaken by AUS, NPG and DAG to help push Arab astronomy forward with various big and small projects at a time when the state of Arab astronomy leaves a lot to be desired.
Special gallery displays by DAG comprising high-quality astronomical photographs, telescopes and publications were also on exhibit at the venue.
By WAM, published in The Gulf Today, May 16th 2014.