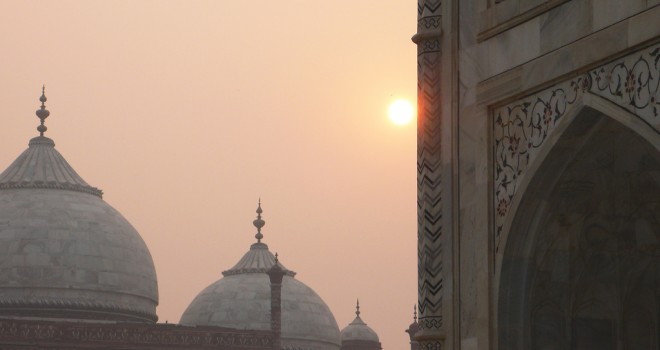 The Muslim world's challenges
Dr Farhan Ahmad Nizami
FOR about a thousand years, roughly from the 7th century onwards, the people under Islamic rule made striking advances in their material and intellectual culture.
The contribution of those advances to modern Western philosophy, sciences and technology has been extensively studied. But I want to speak about their distinctively Islamic qualities.
The area under Islamic influence stretched overland from the Atlantic in the west to the borders of China, and across the Indian Ocean to the islands of the Malay archipelago.
This vast area was commercially interconnected with much continuous and profitable exchange of goods. It was also culturally interconnected, with prodigious traffic in books and ideas, scholars and travellers.
Its people busied themselves in seeking knowledge and writing it down. So much so was this that, to this day, there remain huge quantities of manuscripts, from different ends of the Islamic world, yet to be catalogued and studied.
The regional diversity and assimilative embrace of Islam as a civilisation is manifest in the names by which great figures in Islamic scholarship are best known: al-Qurtubi, al-Fasi, al-Iskandari, al-Dimashaqi, al-Baghdadi, al-Isfahani, al-Bukhari, al-Dihlawi and al-Jawi.
The language of communication among scholars was mostly Arabic, with Persian and Turkish becoming important later in the east. This dominance of Arabic was not the result of any policy to diminish local languages. It was simply a gradual extension of the authority of the language of the Quran and its teachings.
Muslims believed that the way of life defined by the Quran summed up the best of the teachings of the past. They expected that non-Muslims, too, would have knowledge, skills and virtues. They expected to learn from them and to fit that learning with Islam.
Islamic civilisation thus self-consciously set out to co-exist with and absorb the cultures of others. It did so from a position of political strength.
The House of Wisdom (Bayt al-Hikma) in Baghdad, funded by the Caliph, is the best-known example of this attitude. Translations were commissioned of works in every branch of learning, from metaphysics to the science of making poisons. Once translated, these works were studied critically, then improved and extended.
The dominant streams in this flood of knowledge were Hellenic, Persian and Indian. The Chinese script proved too severe an obstacle to the absorption of Chinese philosophy and science. However, Chinese influences are found everywhere in the material culture of the Islamic world, in decorative motifs, and in the skills of making paper, ceramics, glass, metal-ware, textiles, dyes and drugs.
The Quran presented the teaching of all God's messengers as a unified legacy. Muslims set out to harmonise older traditions of learning with that legacy. This effort was not universally admired.
In particular, the presentation of Islamic teachings in the style of Greek philosophy remained controversial for centuries. In the end, it had a more enduring influence on the medieval Christian world than on Islam.
Such controversies did not dampen Muslims' self-confidence. In general, Islamic norms continued to encourage intellectual adventure and achievement. Muslims were aware of living in prosperous, stable societies, and comfortable with non-Muslim communities among them. They considered themselves forward-looking, inventive and multi-cultured.
Their best scholars made innovations of lasting importance in mathematics and experimental science, and applied them in technical instruments, manufacture, and engineering. And the wealthiest royal courts competed to own and display the results.
Al-Jazari's famous water-clock illustrates this well. Its water-raising technology is Greek; the elephant, inside which the great vat of water is hidden, represents India, the rugs on its back are Persian; on top of the howdah sits an Egyptian phoenix; on its sides are conspicuously Chinese red dragons. This deliberately multicultural device was constructed shortly after the Crusades.
All that said, while Muslim societies were stable, their governments were often not: regime change was usually violent and disruptive. Politically, the Muslims became ever weaker and more divided.
Little now survives of their cultural self-confidence; even less remains of the personal and political skills they had developed to manage life alongside different communities and confessions.
Their ways of organising long-distance commerce and regulating free markets have vanished completely. The material remains of the rest — all the thinking in all the books, colleges, libraries and hospitals — interest only medievalists, museums, and tourists.
The past still has presence in the public spaces; you still hear the call to prayer, even in secularised city centres. There is still a feel of Islam in private homes and personal manners.
We can objectively map the movements of books, ideas and scholars from one end of the Islamic world to the other in every century until the modern period.
The recovery following the Crusades and Mongol conquests included the building of madrasa and colleges that taught a rich, varied curriculum.
There is little evidence of that during European colonial rule. The madrasa of that era were not well funded. They could afford to focus only on Islamic sciences narrowly defined.
For the rest of their education, Muslims had to leave the cultural space of Islam. A division became established between religious and secular education, between old and modern, with Islam on the side of the old. That division is at the heart of the present challenges facing Muslims in every part of the world.
When we memorialise the legacy of the Islamic past — when naming public institutions, or presenting past glories in books and museums — we should remember that this legacy was built on Muslims' confidence in Islam.
This confidence was sustained by material prosperity, combined with a sufficient degree of political and legal stability. Without prosperity and stability, the constraints on political and economic decisions are too strong for people to make their own choices for their future.
We need only look at the difficulties in post-recession Europe to know that feeling powerless to shape the future is not special to Muslim societies. It is not related to their being Muslim but to the material conditions in which they are Muslim.
The end-goal is hardly a matter of dispute among the vast majority of Muslims. It is to re-establish connections between Islamic upbringing and education and modern secular, technical education.
The latter provides the means for individuals to make their way in the world, to have things to do in it and to enjoy doing them successfully. The former provides them with their religious orientation and identity.
Religious orientation is not itself the goal. The aim is not to have people identify as Muslims; the vast majority already do that. Rather, the aim is to enable them to prosper in the world in ways that express and test, inform and improve, their identity as Muslims.
As the Chinese saying puts it, the journey of a thousand miles begins from where your feet are. We in the Muslim world can only set out from where we stand in reality. That reality needs to be stated bluntly.
Today, Muslim identity is not sufficiently relevant to how things are done in the world, especially in the collective spheres of life.
Muslim identity is not the engine of prosperity, of either the production or the distribution of wealth. Muslim identity is not the engine of knowledge, of collecting it, or adding to it, or disseminating it. (This is true, rather unexpectedly, even of knowledge about the past legacy of Islam.) Muslim identity is not the engine of political and legal order. Or rather, it is not so in a positive way. Instead, we see mainly negative expressions of it. We see it in a despairing withdrawal from the evils of power: in the attitude that the status quo, however bad, is still better than chaos.
We see it also in despairing violence intended to erase the status quo, without any labour of understanding and analysis about what will follow.
The end-goal is to make being Muslim relevant and effective in the quest for knowledge, in the quest for prosperity and in the quest for political order. Except in the sphere of personal courtesies and private concerns, being Muslim is no longer the currency of exchange neither among Muslims themselves, nor between them and non-Muslims.
To make it so again is a task of huge scale and complexity. Our first priority must be to establish institutions and forums so that the present challenges are properly identified, and then try to guide expectations towards realistic, achievable goals.
The hurdles in the way are real and substantial.
First, there is the hurdle, as I said, of determining what is do-able and specifying it intelligently, in the light of local realities; in the way that sustains momentum towards the next objective; and without losing sight of the end-goal.
Second, there is the hurdle of co-ordinating effort with other societies and states. Priorities can vary sharply with local conditions. Therefore, there will be a need for trust among policy makers, with tolerance for variable levels of competence and energy.
Thirdly, there is the hurdle of rejection by those who oppose any attempt to bring religious concerns into the public sphere. The response will sometimes be concession, compromise and conciliation. At other times, it will take the form of steadfastly holding one's ground. In either case, alert flexibility — the readiness to adjust to different circumstances — is essential.
Among general objectives, the most inclusive is to build up the commercial, financial, trade and cultural ties between Muslim societies.
One measure of the need is the low values and volumes of bilateral trade between Muslim-majority countries, compared with their trade with non-Muslim countries.
Another measure is the low values and volumes of trade outside the dollar-dominated banking system.
Another is the low numbers of Muslims travelling for higher education from one Muslim country to another; the general preference, for those who can afford it, remains Europe or America.
Yet another measure is the massive inflow of cultural product from the non-Muslim into the Muslim world — the information and imagery people get from their televisions and computers; the advertising that influences the things they want to own; the time they give to sports and other entertainments.
All of this shapes people's horizons, and their understanding of what is important and what is possible.
For the states that make up the Islamic world, the need to work together is clear. Modern technologies make it much easier to do that than it used to be. The sacrifices needed for cooperation to succeed are widely understood. But we should also highlight the benefits of a strengthened economic base in Muslim states, through increase in trade and long-term investments in human development.
The distribution of resources favours Muslim nations, but they lack the will and confidence to manage them to best advantage. If only because they are Muslim nations, their leaders have a special responsibility to nurture that will and confidence.
Their aspirations and policies should be consciously linked to the history, culture and faith that Muslims share. If enough far-sighted individuals have the courage of their Islamic convictions, what seems desirable but unrealistic can become a realistic and achievable goal.
Muslims are commanded to "bid to the good and forbid from the evil" (amr bi-l-ma`ruf wa-nahy `ani l-munkar). This entails commitment to the direction and quality of the whole social ethos. Not just traditional forms of family life and neighbourliness but also religiously valid ways of earning a living, co-operatively with others and with the natural environment.
As I mentioned, in the past, Muslims traded globally. The expansion of Islam's influence followed the trade routes out of its Arabian heartland. For Muslims, economic effort is an integral part of responsible living.
We have a reliable record of how the Prophet and his companions went about discharging that responsibility. Muslims may not engage in practices that deliberately and systematically deprive others of their livelihood, and then, in response to a separate impulse, give charitably to relieve the distress their economic practice has generated.
Rather, the effort to do good works and the effort to create wealth must be sustained as a single endeavour. Both means and ends must be halal.
More Muslims need to join, with each other and with non-Muslims, in the urgent need to balance the creation and distribution of wealth so that a good life is available to all, including future generations.
Muslims' efforts to develop techniques of financing and investment that are free of usury and uncertainty (speculation) are pertinent to the wider concerns about ethical investment, fair and genuinely free trade, and abolishing the export, through debt-slavery, of poverty, instability and pollution to the poorest and weakest on this earth.
We have seen over the last forty years massive growth in the stocks of Islamic financial capital. But these stocks are not being deployed to develop the economic capacity of Muslim countries. It seems that the wealthiest Muslims, individually or as sovereign powers, prefer the safe, quick returns from investment in the non-Muslim world.
In many Muslim states, economic infrastructure and activity remain linked to servicing the economies of former colonial powers. Those linkages are not sustained only by fear, but by individual and institutional inertia — by lack of will and imagination on the part of officials to take the necessary steps to put in place the needed skills and systems.
One reason that Muslims do not invest their wealth and talents in Muslim countries is that those countries are unstable, unsafe and unproductive to work in.
This vicious circle is not a function of those countries being Muslim: similar socio-economic conditions elsewhere have similar effects — an exodus of energy, talent and money.
Many Muslim states inherited their political boundaries from the colonial era. Those boundaries increased dependence on the colonial power to keep order. The anti-colonial struggle provided a shared history for communities separated by ethnic and religious differences. In the post-colonial era they have not been able to find common ground. Solidarity is not a precondition, but an outcome, of the effort to identify common purposes. It is something that has to be, and can be, constructed.
To make Muslim identity effective in the world, a major policy commitment must be to make justice and fairness the decisive value for all modes and levels of governance.
This means allowing independent centres of authority to emerge and recognising their concerns and aspirations. It means a redistribution of opportunities to acquire wealth and influence, so that decision-making is not concentrated in the same few hands.
This must be a process, not a gesture. It must be given the time it needs, according to local conditions, to happen gradually.
In this way all parties learn to trust and work with each other to mutual benefit. If government is seen to be in the service of the people as a whole, its security is guaranteed by them.
By Farhan Ahmad Nizami, published in New Straits Times, May 28th 2014.